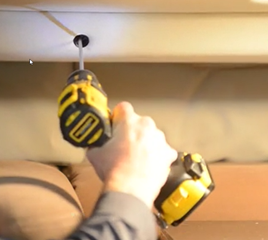 1. Have you checked whether the "Res 3" fuse on the electric block (EBL) below the driver's seat is still inside?
2. Is currency available via the 12V.
Please check the main power switch on the control panel in the entrance area of the vehicle and make sure that the vehicle has been properly connected to an external power source.
3. Can you see if there are loosened or damaged cables in the lifting bed area?
If so, please visit a Bürstner dealer or service partner.
4. Could the lifting bed be too heavy loaded?
For functional testing, please take everything except the mattress off from the lifting bed.
5. Have you already tried to operate that lifting bed via the emergency crank?
6. If the lifting bed still does not work, we strongly recommend that you visit a Bürstner dealer or service partner who can personally check the bed.