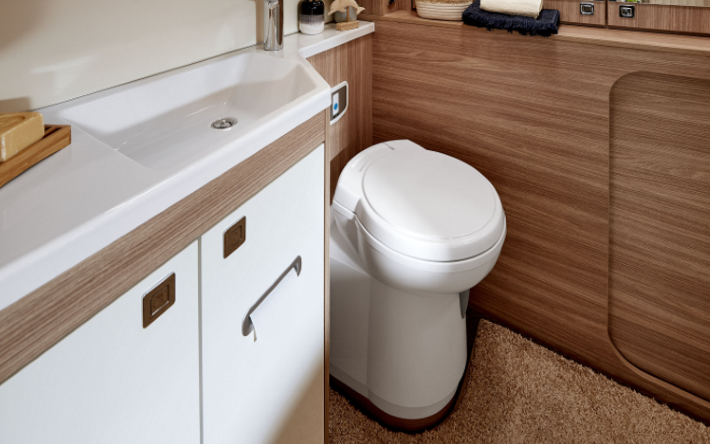 Cassette toilet
This variant is the most common version of toilets in caravans and motorhomes. They are available in 2 versions. On the one hand in high-quality, durable and user-friendly plastic, on the other hand as a particularly hygienic ceramic version. The level indicator in the interior shows when the sewage tank needs to be emptied. Emptying the sewage tank is done from the outside via the removable tank in both variants. Toilet care products and additives ensure longevity, suppress unpleasant odours, support decomposition and thus simplify emptying.


iNDUS toilet
Thetford: "iNDUS is a smart toilet system. It offers caravan and motorhome travellers more comfort, more hygiene and more freedom. With iNDUS, caravan and motorhome travellers are independent of an emptying station for up to 7 days.
The system supports emptying in one operation in a very hygienic and flexible way. The system doses and supplies the operating materials automatically and in the exact quantity required. A large amount of fresh water is saved by the efficient toilet flushing system and through the reuse of grey water for toilet flushing. "
The waste water system collects grey water from kitchen and bathroom in a separate grey water tank. The grey water is filtered, provided with a special additive, and reused for flushing the toilet. If no grey water is available in sufficient quantity for the flushing process, fresh water is added.
After using the toilet, the black water (toilet waste water) is pumped from the toilet into the separate black water tank. With the help of the discharge module, the black water is emptied into a suitable disposal point.
By adding various additives, the system ensures a hygienic and odourless disposal of the waste water and prevents deposits in the hoses and tanks. The system uses three different cartridges with additives. Dosing is done automatically via a dosing module.